November 13, 2019 is the release day of Brilliant Breakthroughs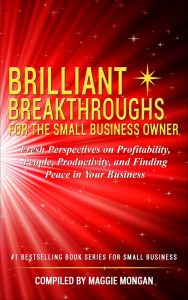 for the Small Business Owner, Volume 3
Did you know this is the 3rd Volume in a #1 Bestselling Business Book Series? This is how you get your copy:
Sale starts at 2:01 am CST. Volume 3 is the one with the Ruby Red Cover.
Go to: https://getbook.at/BrilliantBizBook3
Get the Volume 3 eBook at Amazon for only 99 cents today, release day only.  That's an 87.5 % discount!  Regular eBook pricing after release day is $7.95.
Many of your Wisconsin Business Owners Organizers and fellow Members are Authors of Volumes 1, 2, and 3!   Many of the Authors have been outstanding Presenters at our Lunch & Learns and Special Morning Workshops.
If you want a Brilliant 2020 Business Year – get your copy today to improve your business's success rate with these practical strategies and techniques on Profitability, People, Productivity, and Peace.
Appreciatively, Author Team of "Brilliant Breakthroughs for the Small Business Owner: Fresh Perspectives on Profitability, People, Productivity, and Finding Peace in Your Business"
Please look for #BrilliantBizBook on social media and spread the word!
You're invited to "Like" and "Follow" us on Facebook.
Follow us on Twitter.
And please follow us on LinkedIn.
Last, and not least, join us at https://www.Meetup.com/wisconsin-business-owners/ if you're not already a Member (free to join).
Please Contact Us with suggestions and questions anytime.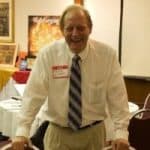 Keith Klein
Google Phone: 262-820-8201
Wrote the book, WebForging – see http://www.WebForging.com.
Web design, production, programming, hosting and Internet marketing our specialty. Hundreds of websites for manufacturers, healthcare organizations and practitioners, specialty retailers, professional services firms, realtors, builders and others. E-Commerce and Business Process Automation.
Organizer, Wisconsin Business Owners meetup group with monthly Lunch & Learns for 10+ years. http://www.meetup.com/wisconsin-business-owners/
History:
Published alternative metro newsweekly. Ran two recruitment firms. Independent rep for Thomas Register of American Manufacturers for 10 years.
Goals run 3+ pages.
Specialties: Project management in web design, production, programming, hosting & Internet marketing, with the staff to execute the strategies & tactics we devise.
Search Engine Optimization and Registration a specialty. Google (TM) Agency
Online marketing is what separates us from most web shops. Pro-active, value-added hosting.
Manage over 100 social networking accounts.